Home
Welcome to the Ballaarat Yacht Club.
We are also on Facebook ~ Link Bottom Right (click on Ballaarat Yacht Club).
The Ballaarat Yacht Club is located on the southern foreshore on Lake Wendouree in the centre of Ballarat in Victoria, Australia.
The club was established in 1877 and has had a continuous history albeit having been affected by droughts. Lake Wendouree is an artificially-created and maintained shallow urban lake with a shoreline of 6.5 kilometres and covers 238 hectares. The lake has an average depth of 1.5 metres and is 2 metres at its deepest. The Ballarat Yacht Club committee has a proud history in regional and State racing. The club is proud of its many champions and juniors who started and honed their skills in the variable winds of Lake Wendouree, who have gone on to glory in the world of yachting.
The club has a great tradition of being a family club with children a welcome part of sailing and the clubhouse. We strongly encourage juniors to come up through the ranks and become the future of our club as members and on the committee.
If you would like to give sailing a go, come along to the club on a sailing day and there might be someone who needs a crew.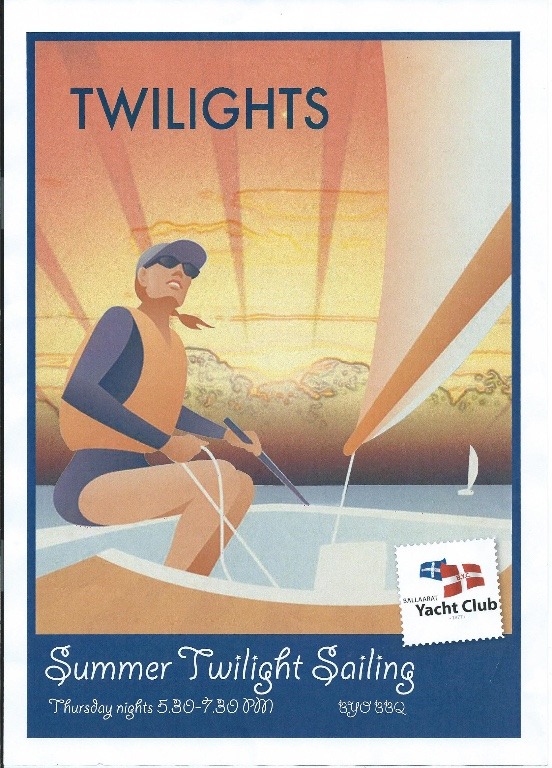 Change your

Thursday

evening plans, come for a "

twilight

" sail!
---
The club's restaraunt

is temporarily closed.
The Ballarat Yacht Club has an in-house restaurant which is located at the yacht club and provides a fantastic cafe menu for yacht club members and the general public with drinks at Pub porices.
---
Learn to Sail
We have an extensive sailing program for juniors and seniors with club racing, learning to sail programs and social sailing.
The club is strongly supported by Yachting Victoria and has accredited sailing instructors leading our Learn to Sail program. The club has its own fleet of the very popular Opti training dinghy which are an excellent platform for both new and existing sailors to develop their skills for both pleasure sailing and competition. Ballarat yacht Club also has the largest fleet of the Jubilee One design Class which provides sailing experiences for sailors of all ages and experience.
Download registration forms for your child on the Learn to Sail page.
Sailing Events
The Ballarat Yacht Club has an annual season from October to May and is host to both State and National championships. Our sailing calendar is developed in collaboration with other lake users and offers. a range of sailing events including recreational sailing for members and visitors as well as attract class State titles, special regattas and inter-school competitions.